RapidAccessTM Segments

US Payers

RapidAccessTM includes contact information for more than 13,000 executives at US private and public health plans, self-funded employers and supporting organizations. To illustrate the diversity of RapidAccessTM, it contains contacts at more than 640 private US health plans.




US Payer Executives in RapidAccessTM

4,750+


Private Health Plans


1,500+
Government Payers
6,000+

Self-Funded Employers
Employee Benefits Consultants
Employer Coalitions

500+

Pharmacy Benefit Managers

500+

Specialty Pharmacies

300+

ACO Executives and Other*

13,550+

TOTAL

*Other includes disease management organizations, ACO executives and radiology benefit managers

---
From study to study, our clients' needs vary in terms of payer job titles, geographic coverage and number of covered lives per plan.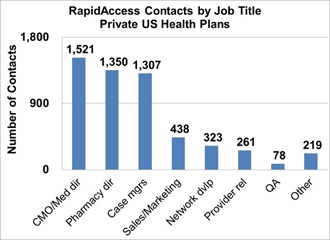 ___________________________________________________________________________________
US Hospital Executives

RapidAccessTM includes contact information for more than 77,000 executives at US hospitals, ACOs and IDNs.

RapidAccessTM includes executives at more than 4,000 US hospitals in a variety of categories:

Community hospitals

Academic medical centers

NCI-designated cancer centers

Rural hospital

Behavioral health centers

Rehabilitation hospitals

Long-term acute-care hospitals

These US hospitals range in size from 10 to more than 1,500 staffed beds.

RapidAccessTM also includes more than 200 hospital GPO executives.

US Hospital Executives in RapidAccessTM


19,000+

Respiratory therapists

17,500+

Case mgts/discharge planners

11,000+

Nurses (from CNOs to floor nurses)

9,000+

Pharmacists

6,500+

Hospital-based physicians

4,000+

Care unit managers

3,000+

Purchasing

2,500+

Diagnostic lab managers and clinicians

1,500+

IT executives

900+

Medical management (CMOs/Section heads)

900+

Financial management

500+

Quality assurance

200+

Infection control

400+

Other

77,000+

TOTAL

---
US Executives at Alternate Sites of Care and Medical Groups

RapidAccessTM includes contact information for almost 20,000 executives at US alternate sites of care.


RapidAccessTM also contains data for almost 20,000 executives at US medical groups.

US Alternate Site Executives
in RapidAccessTM

12,000+

Ambulatory surgi-centers

2,000+

Nursing homes

600+

Community health centers (e.g., FQHCs)

600+

Dialysis centers

600+

Assisted living

500+

Home healthcare agencies

400+

Intermediate care facilities

300+

Hemophilia treatment centers

200+

Infusion centers

200+

Cystic fibrosis care centers

100+

Behavioral health centers

100+

Hospice

100+

Occupational health clinic

300+

Travel vaccination clinics / Department of Corrections / Imaging centers

18,000+

TOTAL

US Medical Group Executives


in RapidAccessTM

14,000+

Administrator/Office manager

1,200+

CMO/Medical director

1,200+

Insurance/billing supervisor

500+

CEO/COO

400+

CIO

400+

CFO/Finance

300+

Human Resources

200+

Quality assurance

200+

Pharmacist

100+

Marketing

400+

Other

19,000+

TOTAL